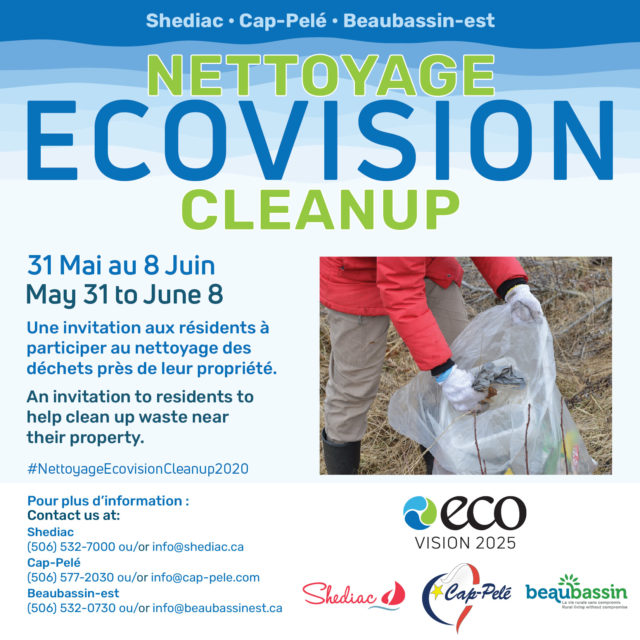 Many residents of the municipalities of Shediac, Cap-Pelé and Beaubassin-est care about the quality of the environment in their community. Every year, they participate in activities such as cleanups on the coast and along roads.
This year, due to the circumstances surrounding Covid-19, the community cleanup activity planned for this spring will take place in a very different way. This is to respect social distancing measures.
From May 31 to June 8, residents are invited to choose a day to participate in the cleanup near their property, while following these tips:
Participate only with people who are part of your family bubble;
Make sure you maintain a physical distance of at least two metres from neighbours;
Wear gloves and a mask;
Once the collection is complete, place the collected waste in the same bags as your household garbage;
Don't forget to wash your hands.
Please send us your photos of all the garbage collected to the email address of your municipality listed below, and we will publish them on our Facebook page. You can also share them directly on social media with the hashtag #NettoyageEcovisionCleanup2020.
Residents of Shediac
You are invited to share photos showing how you are taking part in the event. For each photo you submit, your name will be entered in a draw for a chance to win door prizes such as gift cards redeemable at local businesses. This contest is intended exclusively for residents.
Use the 3-Bag Waste Sorting System  for your waste cleaning.
Place your trash cans on your regular collection day.
If you have any questions, please do not hesitate to contact us.
Shediac
Tel: (506) 532-7000 E-mail: info@shediac.ca
Cap-Pelé
Tel: (506) 577-2030 E-mail: info@cap-pele.com
Beaubassin-est
Tel: (506) 532-0730 E-mail: info@beaubassinest.ca