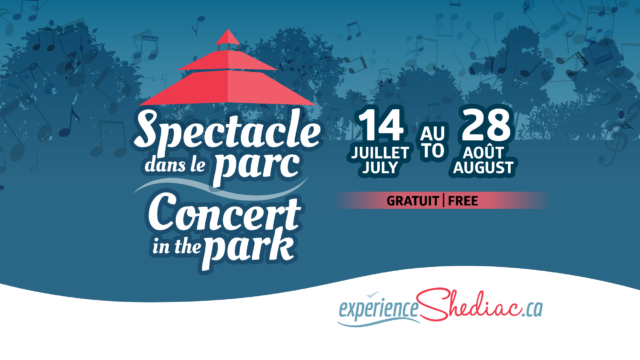 The concert in the park are back at the Pascal-Poirier parc this summer! The program takes place Thursday through Sunday from 7 p.m. to 9 p.m. Throughout the summer, you will have the chance to listen to various local artists.
July schedule
14 July– Les Fretkatz
15 July– Simply Done
16 July– Undercover the trio
17 July– Flashback
21 July– Kevin pu la crew
22 July– Perfect Fit
23 July– Flo Durelle
24 July– 3 Bob Night
28 July– Herbie Gallant
29 July– Marty B
30 July– Parker Blues Band
31 July– Frank William
August schedule
4 August– Kelsey Albert
5 August– Gerry LeBlanc
6 August– High Lonesome Drive
7 August– Terry Melanson
11 August– Pierre & JF
12 August– Gilles Fougère
13 August– The Pub Crawlers
14 August– Bourré d'joie
18 August– Ivan Daigle
19 August– Hubert Gallant & Countryside
20 August– Daniel Hébert et musiciens
21 August– Colleen Duguay
25 August– Danny Vienneau
26 August– Mike & Andy
27 August– Chris Boudreau
28 August– Brian Mallery
Don't forget to bring your chair!
Free