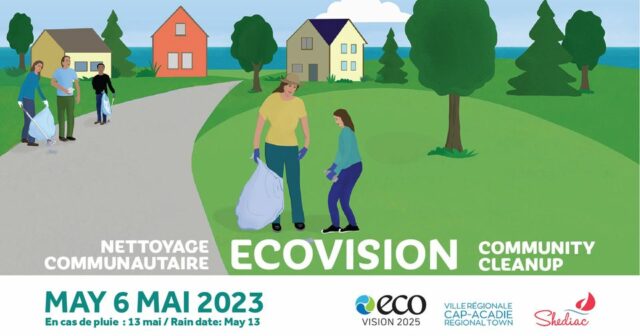 On Saturday, May 6, from 9 a.m. to noon, citizens are invited to participate in the Eco Vision community litter cleanup at a location of their choice.
In case of rain, the cleanup will be rescheduled for Saturday, May 13.
Here are some ideas for locations:
Municipal pathway
Citizen's property
Road/street/venue/shortcut in the municipality
Centennial Park
Pascal-Poirier Park
Ourson Park
LeBlanc Park
Webster Park
John Lyons Park
Interested parties are invited to register to receive a clean-up kit to help with the garbage collection.
Link to register: https://bit.ly/3AfMIao
Once the collection is complete, the collected waste can be disposed of in the following ways:
Add the bags to your garbage
Centennial Park
Trail (access point from Sackville Street)
Trail (access point from Donald Street)
Trail (access point from Ohio Street)
Trail (access point from Chesley Street)
Multipurpose Centre
Please send photos of the collected garbage bags to info@shediac.ca and they will be posted on the Experience Shediac Facebook page.
The ECOVISION Community Clean-up is a partnership between the Town of Shediac, the Town of Cape Acadie, the Shediac Bay Watershed Association and ECO Vision 2025.