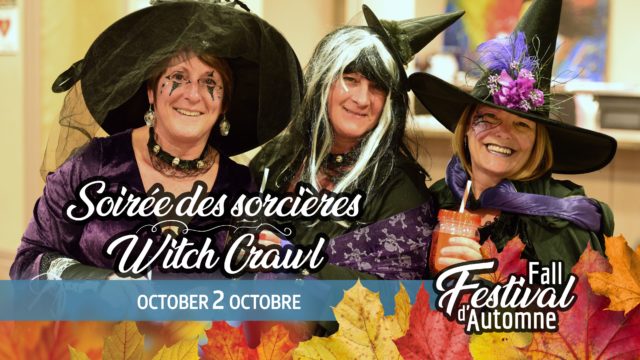 The Town of Shediac invites all witches to come out for a special evening on Friday, October 2 at the Shediac Multipurpose Centre. Due to the pandemic, the Witch Crawl's format will be different this year. The Multipurpose Centre will be transformed into a witch-themed bar.
Ticket sale
The tickets will be sold in sets of seven at a cost of $200. (7 X $28,60)
When purchasing the tickets, you can select the session you would like to attend. A limited number of tickets will be sold for each session.
Tickets can be purchased at the following link: Ticket sale
The ticket sale starts September 9 at 8:30 a.m.
Format
The event will last 90 minutes and six kiosks will be set up.
It will be important to stay with your group of seven people at all times. The designated volunteer will let you know when you can make your way over to the next kiosk.
One beverage (either a themed drink, a beer or a glass of wine) per participant will be served at each kiosk.
Following each kiosk change, a designated volunteer will be responsible for disinfecting and cleaning the kiosk.
Protocols will be in place to prevent the spread of COVID-19.
Various door prizes will be drawn. As we get closer to the event, an e-mail will be sent to the person who purchased the tickets to confirm the names and telephone numbers of those in the group.
Why are we collecting this information? The municipality is required to collect the name and phone number of each person who uses its public facilities for contact tracing purposes as needed. Collecting this information will also allow us to give out door prizes