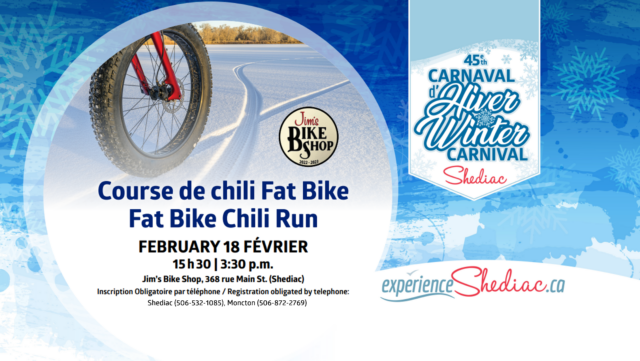 Looking for an outdoor activity with an adventure?
Meet us at Jim's Bike Shop at 4:00 pm on February 18th for a Fat Bike ride! The route (weather permitting) will be through Shediac on city roads (final route to be determined and posted if weather permits a few days prior). The ride is for anyone with the proper equipment, from beginners to experienced riders. The pace will be easy. The hike should end around 6pm at Festival Place, or participants will be invited to the Multipurpose Center for a good bowl of chili!
The ride requires participants to have the following:
Fat Bike preferred but "Mountain Plus Bike" acceptable if conditions permit.
A headlamp or flashlight.
Warm clothing (appropriate winter hiking clothes)
A helmet.
Length of ride: 1.5h - 2h
Registration required by phone: Shediac 506-532-1085 or Moncton 506-872-2769
*Please note that we have a rental inventory of Fat Bikes and if participants wish to rent a machine for the ride, they can do so for $40.00 plus tax for a half day. First come, first served (we also take reservations by phone at our two stores).