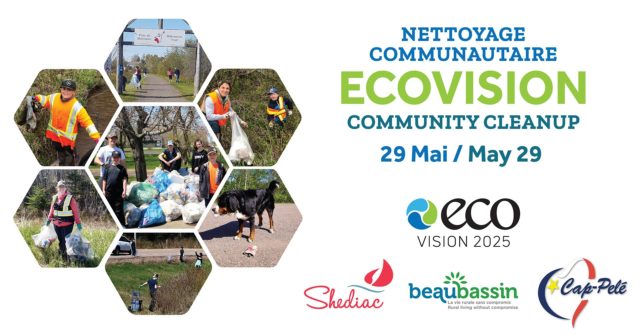 The Town of Shediac is committed to environmental quality. Each year, the municipality organizes a garbage clean-up along the coast and its roadways.
This year, due to the circumstances surrounding COVID-19, the community clean-up activities planned for this spring will take a different form.
On Saturday, May 29 from 9 a.m. to noon, citizens are invited to participate in a garbage clean-up activity at a location of their choice. Here are some location ideas:
Municipal trail
Citizen's property
Municipal road/street/avenue/court
Centennial Park
Pascal Poirier Park
Ourson Park
LeBlanc Park
Webster Park
John Lyons Park
Those interested are invited to sign up to receive a cleanup kit to help with waste collection. Those who sign up, will be entered in participation prize draw.
Link to sign up: https://www.eventbrite.ca/e/nettoyage-eco-vision-clean-up-tickets-150182811833
Please respect the COVID-19 guidelines:
Participate only with those included in your bubble (steady 15)
Respect the 2-metre/6-feet physical distancing rule
Wear a mask if physical distancing is not possible
It is recommended to wear gloves
Wash your hands often
Once collected, the garbage can be disposed of in the following ways:
Include the bags in your household waste
Centennial Park
Trail (access point off Sackville Street)
Trail (access point off Donald Street)
Trail (access point off Ohio Street)
Multipurpose Centre
Please send photos of the bagged garbage to info@shediac.ca; they will be published on the Town of Shediac's Facebook page.