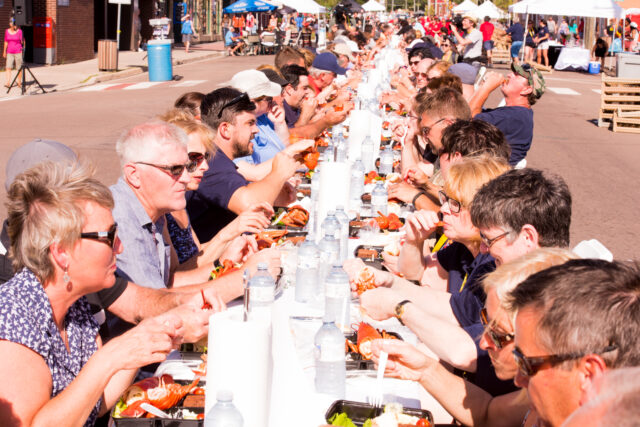 The Shediac Lobster Festival announces with great excitement the long-awaited return of a favorite event that brought us glory a few years ago by setting a world record in 2014: La Grande Table!
Get a ticket to secure your seat at La Grande Table, our huge lobster dinner served on a gigantic long table where hundreds of people will gather around a delicious locally sourced meal.
An unforgettable experience that will please all your senses. Imagine this unifying meal near the waterfowl scent of Shediac Bay tickling your nose as you savor the regional delicacy at the very heart of our festival, the famous Shediac lobster. Warmly surrounded by friends, family and a community that, like you, is proud to finally be able to meet and bond. When you look up from your succulent plate, you will be amazed to see the monumental scale of such a table spread out on Shediac's Main Street closed in your honor. We are convinced that the incomparable visual element of this event will be most spectacular! You will not believe your eyes.
Join us for this iconic and remarkable moment!
On Sunday  10  July 2022 at 6 p.m. on Main Street in Shediac (additional details to come)
Your ticket offers a complete lobster dinner including  : a whole lobster as well as a potato salad, a small green salad, a roll with butter, a dessert and a bottle of water.